VLATKO MRVOŠ STARTED BY CAR IN DUBAI YESTERDAY
16.06.2022. 18:04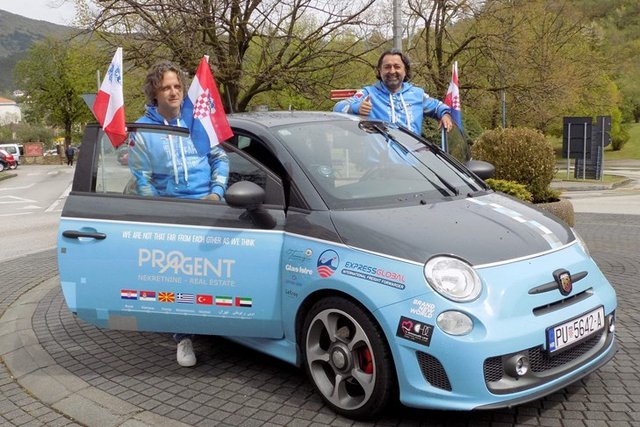 "In my mind I can already see in Dubai parking a car with Pula license plates near the Burj Khalifa, the tallest building in the world 828 meters high. This scene has been spinning in my head for days. When I experience it in reality, I can say that I have fulfilled my life dream, my mission to connect Istria, Croatia with the Emirates in an unconventional way and gain a lot of new experiences along the way ", confided Vlatko Mrvoš, who left for the two largest Emirates in Abarth 595 Competizione from his native Buzet yesterday.

In 18 days, the car will cover more than 6,000 kilometers. He plans to arrive in Dubai, where he will be welcomed by members of the Abarth Club Dubai, on May 11, and arrives in Abu Dhabi a day or two later. His companion is Goran Raušević from Koper.

The owner of the Buzet real estate agency, who has long-standing business ties with Dubai, was accompanied by family and friends. The second stop after Buzet is Zagreb. With members from the Abarth Club Croatia, they will go around Zagreb and continue their journey to Belgrade. They are followed by Nis, then Skopje, Thessaloniki, Alexandroupoli, Istanbul, Amasya, Erzurum, Tabriz, Tehran, Isfahan, Shiraz, Bandar Abbas, from which the ferry crosses the Persian Gulf and comes to Dubai, and later Abu Dhabi. Including the trip and stay on the soil of the United Arab Emirates, the unusual venture will last a total of thirty days. He is returning home by plane, and Exspress Global will take the car from Dubai to Rijeka.
more on GLAS ISTRE

23.04.2022 06:02 | Author: Gordana ČALIĆ ŠVERKO