A JOURNEY OF 6,000 KILOMETERS
01.02.2022. 18:49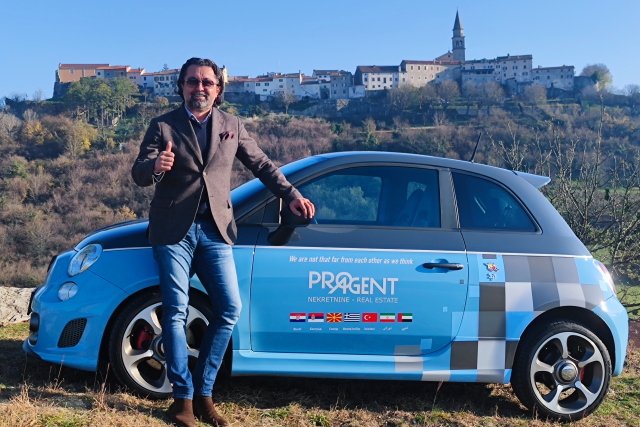 LIFE AND BUSINESS ADVENTURE
VLATKO MRVOŠ'S ROAD OF 6,000 KILOMETERS: Abarth will travel from Istria to the Emirates for 18 days

31.01.2022 20:37 | Author: Gordana ČALIĆ ŠVERKO, GLAS ISTRE


Mrvoš sets off with his Abarth 595 Competizione on April 23, arriving in Dubai, where he will be greeted by members of the Abarth Club Dubai, on May 11, and in Abu Dhabi a day, two days later. Including the trip and stay on the soil of the United Arab Emirates, the unusual venture will last a total of thirty days.

It is easiest to travel to Dubai by plane. It is a little more than five hours away from Zagreb, just as far from Venice, but why would it be easy when it can be complicated. Vlatko Mrvoš from Buzet, the owner of a real estate agency with long-standing business ties to the United Arab Emirates in the two largest emirates, Dubai and Abu Dhabi, will leave Buzet by car this spring and cover more than 6,000 kilometers in 18 days.

The Abarth 595 Competizione is ready to go. It is painted with the flags of the countries on the route of the road, and below them are written the names of the cities. Flags are also being made that will be flown on the car, on the one hand by Buzet and Croatia, and on the other hand by the country where Mrvoš will currently be staying.

- The goal of the venture is to promote my agency Proagent, which successfully operates in Dubai and Abu Dhabi and, of course, Buzet and Croatia, but also to get to know the history and culture of the cities I will pass through. I want to send the message that we are not as far apart from each other as we think we are, which is also the slogan of the project "We are not that far from each other as we think", says Mrvoš.

Numerous encounters

During his trip, he arranged meetings with colleagues from the real estate sector, representatives of cities, tourist boards, embassies and consulates of the Republic of Croatia in the countries he passes through and others who find this endeavor interesting.

He sets off on April 23, arriving in Dubai, where he will be greeted by members of the Abarth Club Dubai, scheduled for May 11, and in Abu Dhabi a day, two later. All those thirty days he will spend on the road and on the soil of the United Arab Emirates will be accompanied by lots of photos, videos and marketing activities, and due to the attractiveness of the car and Croatian license plate, he believes that the trip will not go unnoticed in the media. It was supported by Happines Dental Clinic from Dubai, Brand New World, LeKroy, logistics company Exspress Global, which will transport the car from Dubai to Rijeka, and other interested sponsors who want to be part of this story, which Mrvoš hopes will last forever. recorded in a book and on film. Glas Istre is the media sponsor.

- Why by car? Well, the only culprit for that is Željan's wife, who is wary of planes. Sometime around this time last year, when asked if she would fly with me to Dubai, she replied that she would only travel by car. I think it's an impossible mission. At the time, she had no idea what idea she had given me. I immediately set out to plan a road route to Dubai and found that it was not impossible. True, she will stay at home, but my co-driver will be a friend from Koper. Google maps has ruled out several possible routes, and one of them is the route through Iran to the Persian Gulf and further to Dubai and Abu Dhabi. Our former and current diplomats I contacted unanimously supported the route through Iran because in all the countries I plan to pass through, Croatia has diplomatic missions. As an additional reason, Iran itself, the cradle of civilization, about which everyone who has been or lived there, shared only positive experiences and said that I simply have to see it, says Mrvoš.

He originally planned the trip for September last year, with his arrival in Dubai timed at the time of the opening of the EXPO2020 world fair, but he had to postpone it due to a problem with the covid epidemic. He is now embarking on his journey from his native Buzet in the new April term of this year. The first stop is Zagreb, where he will be greeted by colleagues and friends and members of the Abarth Club Croatia, with whom he will pass a circle around Zagreb and continue his journey to Belgrade, where his first night is. The second day is followed by Nis, then Skopje, Thessaloniki, Alexandroupoli, Istanbul, Amasya, Erzurum, Tabriz, Tehran, Isfahan, Shiraz, Bandar Abbas, Bandar Lengeh from which the ferry crosses the Persian Gulf and comes to Dubai and Abu Dhabi. Mrvos said he was grateful for the support of Mohammad Reza Fateh of Persepolis, who organized expert guides to Iran, the Ministry of Foreign Affairs and European Integration, the Croatian Embassy in Iran, consulates in Istanbul and Dubai, and the embassies of Iran, Turkey and Serbia in Croatia. Embassy of the United Arab Emirates.
Five years of cooperation
The ambitious owner of the Buzet Proagent, first traveled from Buzet to Dubai in 2017 at the invitation of a friend from Istria, then employed in Dubai. He combined the comfortable with the useful and set aside two days of tourist visits to tour related agencies and present their services. At that time, prices in Dubai were quite high and there were not many buyers in Europe, but he still included real estate in the offer as the only one in Croatia. Two years later, he signed the first exclusive brokerage agreement for the sale of Tonino Lamborghini Residences Dubai luxury apartments for Europe.

- The goal was to become a central place for European investors who want to invest in real estate in Dubai and Abu Dhabi, so we intensified our presence in the United Arab Emirates market with a wide range of real estate owned by real estate development, construction and management companies: EMAAR, MERAAS , SOBHA, DAMAC PROPERTIES and ALDAR PROPERTIES. We covered the entire real estate area, from used apartments priced at 100,000 euros to luxury ones overlooking the Burj Khalifa, Burj Al Arab and villas and apartments on the famous "palm tree", floating villas priced at five million euros to villas and luxury apartments in Abu Dhabi, Mrvoš will list.

Presenting real estate investment opportunities in the United Arab Emirates, Mrvos says he is often asked "why are prices so low there?". The answer is always the same. Prices there are not low, but prices in Croatia have risen so much that they are almost the same and even higher. Just a decade ago, Dubai and Abu Dhabi were destinations that seemed so far away and unattainable, in terms of distance and price, and few thought about investing in those cities at the time. Today, Zagreb, in the city center, Rovinj, and even Rijeka, including the coast, have caught up and even surpassed Dubai and Abu Dhabi in terms of apartment prices.

Recently, apartments in Novigrad were sold at a price of 4,800 to 5,400 euros per square meter. Zagreb is already at 5,000, 6,000 and even 7,000 euros, which is a lot for the Croatian standard, but comparing it with the destination in Dubai, we come to the conclusion, Mrvoš points out, that we have caught up in Croatia, and some cities have surpassed real estate prices Dubai and Abu Dhabi, which was unthinkable until four or five years ago. The price of a new one-bedroom apartment in Abu Dhabi, the Water's Edge project on Yas Island, with an area of ​​65 square meters is about 210,000 euros, which is 3,200 euros per square meter, and in Dubai Hills for 69 square meters should be set aside 270,000 euros, which is 3,950 euros per square meter. The price justifies not only the apartment, but the position in which it is located, everything in the area is at the level of five stars. Customer interest exists because of enticing repayment plans.
Property plus visa

- There are Croatian citizens who have already bought an apartment in Dubai, because keeping money in banks is unprofitable, so the goal, says Mrvoš, is to invest the money earned every year. The motive is a good investment. Annual rental income is 6 to 10 percent of net real estate value, and the advantage is that there is no rental income tax. Thus, Aldar Properties guarantees its customers in the Water's Edge project a return of 6 percent net per year for the first three years. This means that in ten to fifteen years it is possible to have a property that has paid for itself. Anyone who buys a property worth more than 180,000 euros in Dubai and 480,000 euros in Abu Dhabi can apply for a residence visa for a period of three years, which is extended after the expiration. This benefit has attracted many customers from all over the world, including Croatia, but also the surrounding area, Italy, Austria, Serbia ...

- When we compare this with Croatian regulations, the conclusion is that we should change to have more foreign investors outside the EU, Mrvos said, adding that his agency is based in Buzet and has a branch in Zagreb, perhaps the only one in this part of Europe that has such a real estate offer in the United Arab Emirates and which has an intensive presence in that market. That's why he travels four to five times a year with interested buyers and shows them real estate. His clients do not pay brokerage fees when buying new properties in Dubai and Abu Dhabi. In addition, Proagent monitors the entire process from the property tour, reservation, purchase to its rental.
- Apartment buyers want a dispersion of investment risk, but already have two or three properties in Croatia and want to invest surplus capital in the United Arab Emirates because saving in a bank is not stimulating, money has a purpose if it creates added value, and there it creates. There are tax breaks, there is no tax on rent or income. Buying a property gives you a top lifestyle in a year-round destination where you can enjoy the summer atmosphere even in winter. In addition, regular direct flights from Zagreb, Belgrade, Ljubljana and Venice, just over five hours of flight, the price of a return ticket of about 400 euros, are an additional incentive to invest in real estate that can be used for living or renting if necessary and thus generate income, will conclude Mrvoš.